Discover more from Tools for MGMT Newsletter
A newsletter for artist managers by Ethan Jones, who manages Alex Russell, Zack Fox, and Cam Hicks.
Tools for MGMT: Episode 111
The Q3 finale: Presubscribe (again), OnlyTweets, Create/OS...
A wise old owl sat in an oak,
The more he heard, the less he spoke;
The less he spoke, the more he heard;
Why aren't we all like that wise old bird?
My name is Ethan. I manage a screenwriter and a comedian. I started this newsletter to regularly send out a few links that I think other managers will find interesting. Thanks for reading this 11th edition!

Wait, did Presubscribe work?
Remember a few weeks ago when we talked about Presubscribe from Stir? (That was Episode 106, for those keeping track.) Anyway – news broke earlier this week that tech journalist Casey Newton is leaving The Verge to start his own Substack called Platformer. He's been in the top 5 on the Presubscribe leaderboard since they launched, and I wonder if seeing that pledged support gave him the confidence to go at it alone… or maybe it was a fat advance from Substack? Regardless, go Casey! Also, here's a great interview with him talking more about the deal.

Gated Content Gated Content Gated Content
My pal Danny Desatnik put me on to OnlyTweets from Stir on Wednesday. I DM'd them, got setup last night, and am excited to embark on an experiment with a client's iconic burner account (iykyk)… which is now behind a paywall. I'm not sure how well it will work and foresee more than a few obstacles… but yeah. I will keep you updated.
Related: earlier today from one of my favorite attorneys, I heard about SoClose – which appears to paywall the "Close Friends" functionality of IG Stories.
And finally, Blake Robbins (VC) and Reed Duchscher (manager of MrBeast) launched a podcast this week – and the first episode covers – you guessed it! – gated content.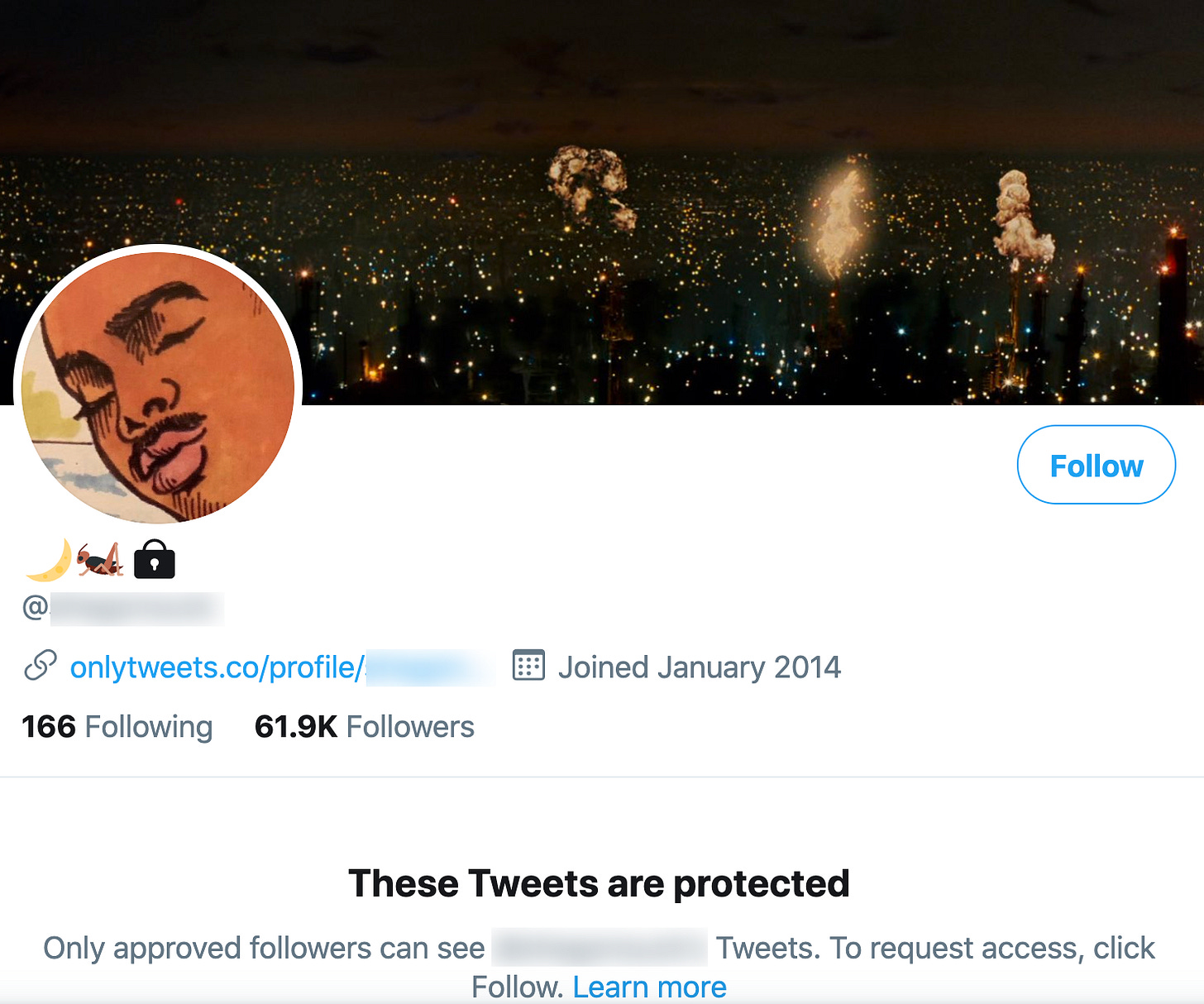 Jon Tanners + Create/OS Record Deal Simulator
Y'already saw the Record Deal Simulator from Create/OS, right? Your next stop is Jon Tanners' latest dispatch from his always excellent newsletter Applied Science.
I know next to nothing about major label deals except for what I've gleaned from this calculator and from dutifully following @kanyewest. BUT I have thought a lot about distribution deals (proffered by the likes of EMPIRE, AWAL, United Masters, Stem, etc). The Deal Sim currently models these using a net profit split structure – where the math works out to be significantly more advantageous for an artist than recouping via a royalty structure. But from what I've experienced and heard… funded distribution deals using a net profit split are a rarer bird indeed.
The big takeaway for me after running through various hypothetical scenarios: this calculator lays bare the difficult, uphill battle of making a living from music in 2020. As Jon writes: "the only real leverage anyone has is saying no and meaning it." But in a world without touring income, that leverage (in many cases) is increasingly more difficult to come by…
SignalFire's Creator Economy Market Map
SignalFire needs to hire the graphic designers who put together the Zebra IQ State of Gen Z report going around… but this one is a goldmine of strategies and emerging opportunities for your clients ❤️. Definitely take the time to go through it.
Creators become less vulnerable to shifts in priorities of the tech giants or their algorithms by owning the direct relationship with their fans. Each creator can assemble a different balance of revenue streams to match their style, no matter how niche. That's a big win for everyone, because creators catering to each of our esoteric interests can build a sustainable career.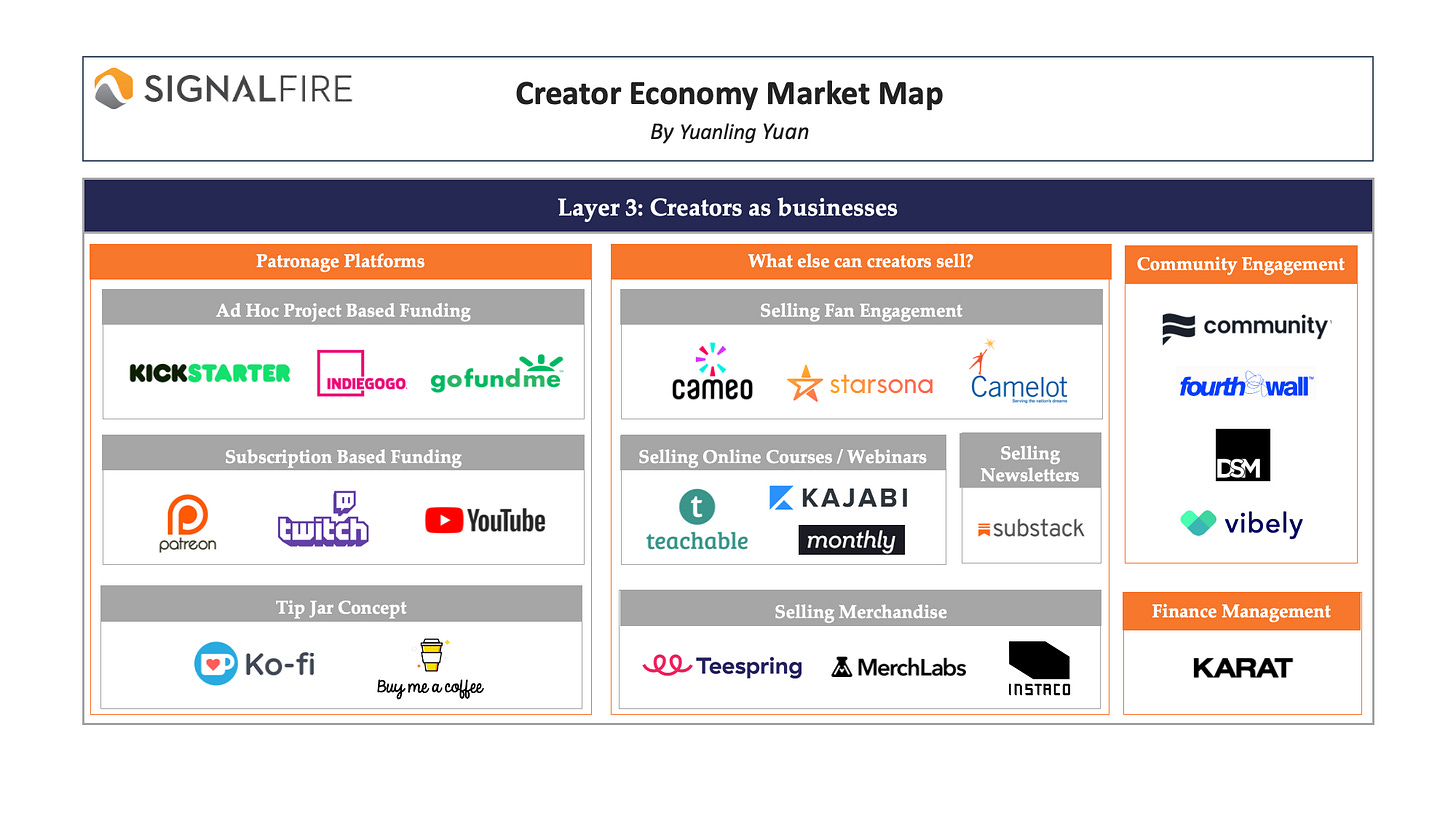 Ok, I'm off – but here are a few more reads for your weekend ahead:
—
P.S. How come nobody told me about Tokboard?