My name is Ethan. I manage a screenwriter and a comedian. I started this newsletter to regularly send out a few links that I think other managers will find interesting. Thanks for reading this 14th edition!

Why does Triller feel like a grift
Maybe because they are juicing their download numbers, making space for QAnon, and trying to buy their way to relevancy? Good piece from Taylor Lorenz on getting to the Triller Money while it's there.
Questions have also come up about the accuracy of Triller's reported metrics. In August, Triller threatened to sue Apptopia, a third-party app analytics company, for providing estimates of Triller's app downloads that were vastly lower than the company's publicly reported numbers. Last week, six former Triller employees spoke to Business Insider claiming that the company "reported monthly active users that were five times higher than what some internal metrics showed."


Management Company IPO: Big Hit Entertainment 🇰🇷
With Thursday's IPO, founder (and manager of BTS) Bang Si-hyuk really came up… maintaining his ~36% stake now valued at $2.5B+. He graciously threw in a few shares for the guys in the band responsible for 90% of the company's revenue – and now they are all millionaires, at least.
This Twitter thread from Nathan Hubbard is worth the read on why aspects of this looks like a short term cash grab at the expense of the BTS ARMY. No touring in sight, mandatory military service looming, and now they are sealed off from the Chinese market for the time being...
14/Read the forums - it's retail, Robinhood fueled fans driving the price. By selling only 20%, Big Hit has created scarcity akin to the front rows of their concerts. Everybody wants in, and prices are through the roof. BTS is scalping their own tickets for shows they won't play!
Digital Music Drop Culture
Cherie Hu wrote the definitive (only?) explainer on WTF is going on with these crypto art drops from 3LAU, RAC, and others artists that are selling for tens of thousands of dollars.
The really interesting thing to me is that Nifty Gateway (and maybe others) are enabling the artists dropping on their platform to receive a % of the secondary sale every time (!) their drop is resold… which is hundreds of times for some.
Imagine if StubHub kicked back a percentage to the artist every time scalpers resold their tickets... where artists and their teams could keep their ticket prices accessible but still benefit from the resale surplus that is currently only captured by speculators. This is *maybe* the first significant blockchain advantage that I can mentally grasp onto… instead of just nodding my head and pretending to understand.
And definitely read more on Drop Culture from my guy Dru Riley.
Self-Serving Nostalgia Alert: Elixr Turns 10 🚨
I filed the paperwork for my first company (Elixr Productions LLC) 10 years ago next week.
I was 18 years old then, trying to adjust to my first semester in college while scheming on how I was going to finesse my way into the business school to learn about BUSINESS and land that McKinsey summer internship (which did not work).
The first two years focused on promoting dance parties in my hometown (with names like Lights Out, Lights Out 2, and as you might have guessed – Lights Out 3D). Dances became concerts, which expanded by grabbing tour dates in the Pacific Northwest up and down I-5, which then unexpectedly turned into promoting European concerts and club nights for artists like YG, Caleborate, Smino, Masego, and Wafia.
The path was far from straightforward. I borrowed money from friends, periodically shifted balances between 0% interest credit cards, and ran an entirely separate company on the side to pay bills. My business partner at the time figured out that we could lease $1100/mo apartments in Portland and rent them out on Airbnb for $150-$250 per night… so long as management didn't find out. I met yet another business partner randomly seated next to me on a flight to Dubai who gave me the (over)confidence to book our first show (T-Pain) in Europe. 2014 was a strange year.
Somewhere along the way, I started to realize that I was more fascinated by the people and machinations behind (or adjacent to) the music more so than the music itself. In late 2015, an opportunity emerged to start managing one of the artists I had booked on a European tour, and that was the genesis of the opportunity I'm running with now.
That said: promoting shows is addictive... way too addictive. When it works out, and the artist is happy and there are enough fans in the room to hit your breakeven point, all is right with the world. When it doesn't, you feel like shit. But that bad feeling usually faded by the next morning for me.
Compound that dopamine rush with a chance to do it all with my best friends (and people along the way whom I tricked into becoming my best friends) while living and traveling around a bunch of different countries…. I have nothing but gratitude and the best memories from the last 10 years.
At this point a decade in, Elixr (in theory) gets harder to kill with each passing day. I'm hopefully not going anywhere – but I'll spare your inboxes more missives like this one until the 20th anniversary. 🖤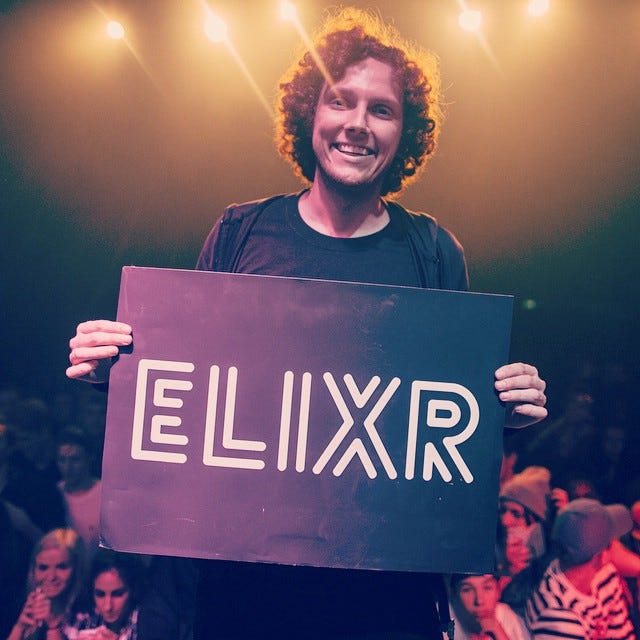 Pictured: me at our YG show in Bopenhagen, Denmark. Dec 2014.

Ok, I'm off – but here are a few more reads for your weekend ahead:
—